The German Chapter is happy to invite you to its CPE event "The Next Wave of Controlling Performance Improvement" with Paul Sharman. The central issue is about responding to volatility while maintaining focus on creation of shareholder value. In addition, a German chapter members meeting takes place where annual financial statements and strategies will be discussed.
Location: Ebner Stolz Partnerschaft mbB, Kronenstraße 30, 70174 Stuttgart

Participants can earn 2 CPEs for attending the event.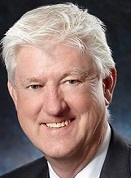 About the Speaker:
Paul Sharman, FCMA, CGMA is the founder and president of Focused Management Information Inc., a consulting and education firm. A specialist in performance management, cost management and financial simulation modeling, he has facilitated change initiatives with major organizations around the world.
As President and CEO of The Institute of Management Accountants (IMA) based in Montvale, New Jersey, Paul was named as one of the "Top 100 Most Influential People" in the US accounting world in 2005, 2006 and 2007 by "Accounting Today". 65 of his articles have been published in a variety of magazines and journals and he has been referenced many times in professional and US national press.
In October 2010 and again in 2014 he was elected councillor of the City of Burlington, Ontario and of the Region of Halton. Paul is Editor-in-Chief of the Thomson Reuters journal "Cost Management".
We are looking forward  to seeing you in Stuttgart.
IMA German Chapter

To register, please visit: https://nextwave-germanchapter.eventbrite.com/